Your Credit Score. And More. Anytime. Anywhere.
Staying on top of your credit has never been easier.

With one powerful tool, you can access your credit score, view your full credit report, monitor your credit, receive financial tips and education, plus so much more.

You can do this ANYTIME and ANYWHERE and it is FREE1.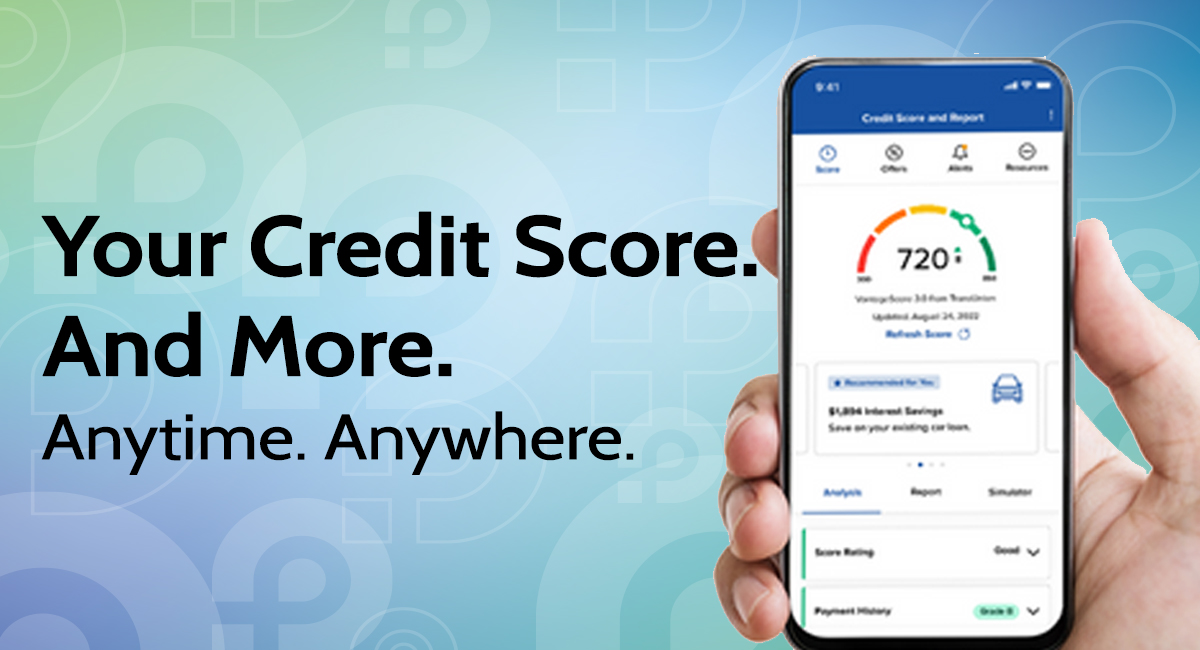 Daily access to your credit score

Credit monitoring alerts for major changes

Simulator tools to see what could happen to your credit score with certain actions

Set up credit score goals and receive tips to improve your financial health
Enroll
Getting started is easy. Enroll today!
Log into your Mobile or Online Banking
From Desktop: Click on the Show Full Report button in the "YourCreditScore" section to get started
From Mobile: Click "More" on bottom Right. Click "Financial Health", then Click "YourCreditScore"
Complete the registration by reading the terms and conditions and following the prompts
YourCreditScore is a tool available to help you manage your credit and finances. It helps you to stay on top of your credit by providing your latest credit score and report and understanding the key factors that impact your credit score. It monitors your credit daily and notifies you of any significant changes, such as an account being opened, change in address, employment, delinquency or other inquiries that may impact your credit score.

Yes, YourCreditScore will monitor and notify you when there are any changes to your credit profile.

No, YourCreditScore is completely free to Premier Bank customers.

YourCreditScore is a "soft inquiry" which does not affect credit score.

Credit scores are updated every seven days and displayed in your Online and Mobile Banking accounts. You can click "refresh score" for an updated score daily.

If you think there is incorrect information being presented in YourCreditScore, you can obtain a free credit report from

www.annualcreditreport.com

and then dispute the inaccuracies with each credit bureau separately. Each credit bureau has its process for correcting inaccurate information, but Premier Bank YourCreditScore users can dispute inaccuracies found on their Transunion credit report by clicking on the "Dispute" link within the YourCreditScore credit report.

Three major credit-reporting bureaus (Equifax, Experian and Transunion) and two scoring models (FICO or VantageScore) determine your credit score. Over 200 credit report factors may be considered when calculating a credit score, and each model may weigh credit factors differently, so no scoring model is identical.
Helpful Links
What makes up my credit score?

Learn about the 5 categories that makes up your credit score.

Learn More

Create a Simple Budget

Learn how to make a simple budget to help manage your money.

Learn More

Improve your Credit Score

Here are a few tips on improving your credit score.

Learn More
1Third party data and internet fees may apply.