Designed with YOU in mind!
Always accessible so you can bank anywhere anytime. Loaded with features you need, Online Banking is like a having a Premier Bank branch at your fingertips. Click here for an overview of what Premier Bank Mobile Banking has to offer.
Financial security made simple.
Rest easy with multi-layered security
View all of your finances in one place with YourMoney
Mange your credit score with help from YourCreditScore
Make moves on the go with our new, improved mobile app¹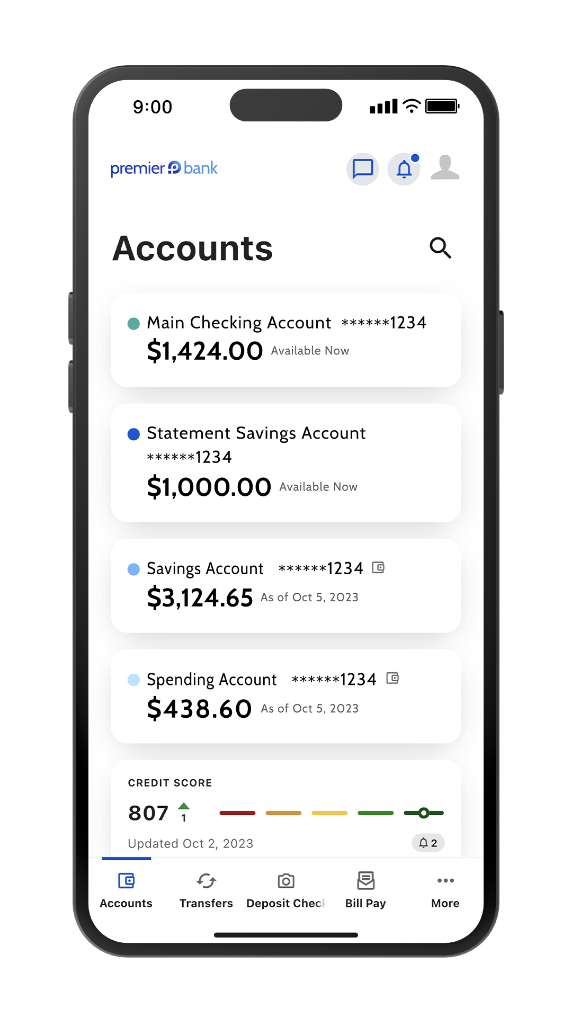 Pay Bills online with one time or recurring payments to ensure you're never late

Create alerts for low balances or big purchases to keep you in the know

Pay friends securely with Zelle®

Deposit checks from anywhere
What's new?
Premier Bank cares about our clients' satisfaction, so we invested in our digital banking platform. The upgrade includes:
Enhanced Cybersecurity
Mobile app1 and Online Banking platform with a modern design and more flexibility
Easier ways for you to view your entire financial picture
Easier to move your money

What stayed the same?
You'll have all the same great services at your fingertips 24/7, now enhanced and easier to use.
Pay people or request money
Transfer funds between your accounts
Deposit checks through the mobile app1
Pay bills online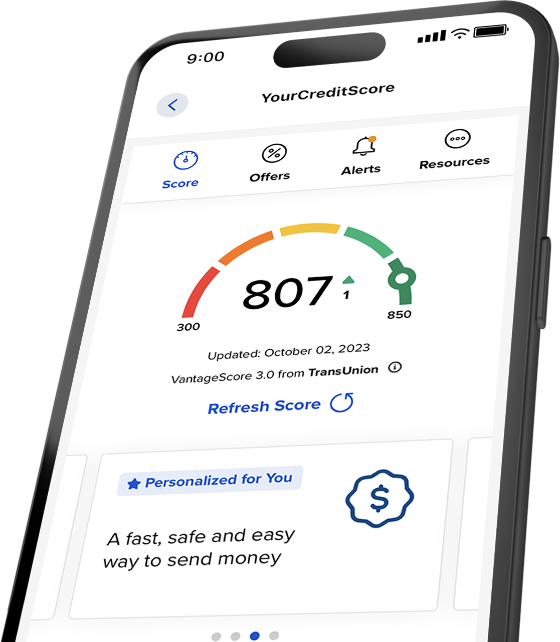 Learn the basics
Click Transfers at the bottom of the mobile app and then select make a transfer.

Select which accounts you will use to move money from and to.

All of the available accounts will be listed, make selections for both from and to.

Fill out the amount, the date and a memo (optional).

Select the frequency – one time or regularly into savings to meet a savings goal.

Scroll down and hit Review Transfer.

Review all the details to make sure your money is heading to the right place, if edits are needed, please select the back arrow in the top left corner. If everything is good, hit Submit Transfer.

You've done it! Hit Done to go back to your accounts.
Click Pay Bills on the bottom menu, then select Make a Payment.

Read and Accept the Terms and Conditions.

Select a payee.

Select the account you would like to pay from.

Add the amount you would like to pay, the frequency, the delivery method, the desired delivery date, and add a memo if desired. Click Continue to Summary.

Double check to ensure everything is correct. Click Pay Bill, or use back arrow on top to make corrections.

The green box at the bottom shows that you've successfully scheduled your payment.
Frequently Asked Questions
Why is Premier Bank choosing to upgrade?

We heard you, our valuable clients. We listened to your feedback and created modern, user friendly features to bring you a premier banking experience on your preferred device at home or on the go.

What are the new and improved features?

In addition to a new user friendly design with more personalized account settings, you will have a robust set of free personal financial planning tools for tracking spending, setting budgets, saving and credit monitoring. You will also have a streamlined process for disputing transactions and improved fraud protection.

Will I need to re-download the Premier Bank Mobile App?

The current Premier Bank Mobile Banking App¹ will be removed from the app stores on Friday, October 13. The new app will become available for download² on Monday, October 16. For iOS users, if you have the auto update feature turned on, you will get the updated app when it is released in the store.

How do I log into the new Online Banking platform or Mobile App?

Beginning Monday, October 16, you will be able to log in to the upgraded Online and Mobile Banking¹ platforms and accept the updated Terms and Conditions. Please note you will need to download and install our new app from the app store² on your mobile device. Simply search for Your Premier Bank.

Will my account(s) information look the same?

All of your account balances and account history will transfer over securely. Once you log in, you'll immediately notice an enhanced and streamlined look to your account listing, which gives you a convenient snapshot view of your accounts.

Will all current Online Banking features be available on the upgraded platform?

Yes, all of the features and services will be available, just with a more user friendly experience. You will still be able to pay bills online, pay or request money from friends and family, transfer funds between internal and external accounts, deposit checks through the Mobile App¹, view all your Premier Bank accounts in one place, access e-Statements and set account alerts.